<!IMG SRC=/images/HHbooks.jpg WIDTH=120 HEIGHT=192 BORDER=0 HSPACE=15 VSPACE=5 ALT='Holy Hell: Lillian Byrd Series #1' TITLE='Holy Hell: Lillian Byrd Series #1'> <!A HREF=/images/hhcard.bmp><!IMG SRC=/images/HHcardCP3.jpg WIDTH=215 HEIGHT=145 BORDER=0 HSPACE=15 VSPACE=5 ALT='Holy Hell postcard high resolution' TITLE='Holy Hell postcard high resolution'><!/A>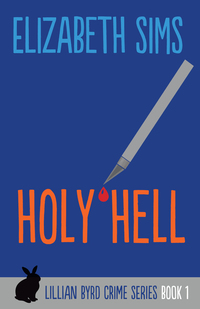 book group guide
Holy Hell is the first novel in the Lillian Byrd Crime Series


These questions don't have right or wrong answers—they're just things to think over and have fun with in your group discussion.
When Lillian resorts to "mild violence," does she help or harm herself?


At first Lillian hesitates to "out" herself to the police. Do you think she has a right to her privacy in this matter?


Why would you say Lillian tries to solve Jean's (Iris's) murder on her own?


Is Lillian acting unethically when she keeps seeing Judy? When she lies to the police?


Mrs Creighter handles Bonnie's sexuality in a horrifying way. What do you think causes parents to react in various ways when they find out a son or daughter is a homosexual?


Who is the better detective, Minerva or Lillian?


Lillian goes to bed with Minerva after spending only one day with her. Is that love or lust? Does it matter?


Does Lillian know herself well? Does she learn anything in Holy Hell?


Lillian is certainly not a glamourous and confident heroine. How would you describe her appeal?


It looks like Lillian may need to find a new job. If you were an employment counselor, what line of work would you suggest?


Did you find this book humorous? What was the funniest moment?


Did you find this book scary? What was the scariest scene?
Questions developed by The Logical Woman for ElizabethSims.com.
---
Book Group Dessert Suggestion
From Holy Hell: Chocolate and Oranges (see page 191.)
A bar of bittersweet chocolate lurked somewhere in my pantry; I found it and broke it into small pieces and put them on a plate with some fresh orange segments.
"A little dessert," I offered as I brought out the tray, "in keeping with the evening."...
---
A Note to Book Groups
IN PERSON
Elizabeth loves meeting with book groups. If your group would like to have her for a visit, let her know. She now lives in Florida and sometimes travels across the country, so who knows, maybe she could coordinate a visit to your group with other travel. (She does not charge for meeting with groups reading her fiction.)

BY PHONE
Elizabeth has "attended" book groups by speaker phone. If you'd like to arrange a phone call or Skype for your group just get in touch.



Email Elizabeth: esims@elizabethsims.com


BOOK GROUP GUIDES:
The Rita Farmer Mysteries
The Lillian Byrd Crime Series
Read on!