!META http-equiv="X-UA-Compatible" content="IE=8" /><!/META>

<!STYLE> <!put back for printing P { page-break-after: always }> <!/STYLE> <!div id="container">

<!IMG SRC=/images/HHbooks.jpg WIDTH=120 HEIGHT=192 BORDER=0 HSPACE=15 VSPACE=5 ALT='Holy Hell: Lillian Byrd Series #1' TITLE='Holy Hell: Lillian Byrd Series #1'>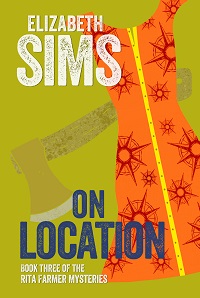 book group guide
On Location is Rita Farmer Mystery #3


These questions don't have right or wrong answers—they're just things to think over and have fun with in your group discussion.
Many people are scared of the deep woods. Are you? Why or why not?


Can you remember the first time you tattled? What did it feel like?


Why is tattling by children discouraged but whistle blowing by adults lauded? <!BR><!BR> <!LI><!Was it politically correct for Rita to portray a Native American? For Sims to create that fictional situation?>


Have you personally felt the pull and tug of independence and fear versus commitment as Rita does vis a vis George?


On Location focuses on two sets of siblings. How would you compare brotherly love vs. sisterly love?


Bertrice admits she favors Lance. Is she at all to blame for Kenner's actions?


Is it surprising that Petey thrives in the primitive outdoor setting? Why or why not?


Do you love or hate camping? Why?


Did you have memorable experiences from summer camp?


Have you ever been to the Pacific Northwest? What was it like?


How did you react to Rita's unladylike use of violence?


Will Bertrice and Gina survive their losses?
Questions developed by The Logical Woman for ElizabethSims.com.
---
Book Group Dessert Suggestion
S'Mores! What else?
---
A Note to Book Groups
IN PERSON
Elizabeth loves meeting with book groups. If your group would like to have her for a visit, let her know. She now lives in Florida and sometimes travels across the country, so who knows, maybe she could coordinate a visit to your group with other travel. (She does not charge for meeting with groups reading her fiction.)

BY PHONE
Elizabeth has "attended" book groups by speaker phone. If you'd like to arrange a phone call or Skype for your group just get in touch.



Email Elizabeth: esims@elizabethsims.com


BOOK GROUP GUIDES:
The Rita Farmer Mysteries
The Lillian Byrd Crime Series
Read on!
Printable Page