!META http-equiv="X-UA-Compatible" content="IE=8" /><!/META>

<!STYLE> <!put back for printing P { page-break-after: always }> <!/STYLE> <!div id="container">

<!IMG SRC=/images/HHbooks.jpg WIDTH=120 HEIGHT=192 BORDER=0 HSPACE=15 VSPACE=5 ALT='Holy Hell: Lillian Byrd Series #1' TITLE='Holy Hell: Lillian Byrd Series #1'>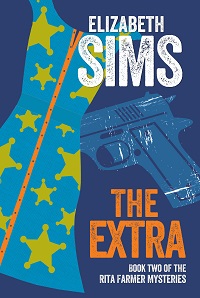 book group guide
The Extra is Rita Farmer Mystery #2


These questions don't have right or wrong answers—they're just things to think over and have fun with in your group discussion.
Should Rita allow Petey to get a dog?


Is Rita generous or a push-over to let Gina share her apartment?


People who feel they can't call the police for help can be terribly vulnerable. What should they do?


Have you ever witnessed a violent crime? Did you get involved?


Is Amaryllis harsh not to give people more than one chance?


Would it be better if street people with mental illness were involuntarily hospitalized? Should they be forced to take their medications?


If you were Amaryllis what's the first thing you'd do with Khani's donation?


Do Rita and George Rowe make a good team?


Forgiveness can be very hard if the offense was terrible. How long do you hold a grudge?


Have you ever wished you could change your appearance and pass as a very different person?


Is Diane Keever a good person or a bad person?


Was The Extra as exciting as The Actress? Was it funnier? More thought provoking?
Questions developed by The Logical Woman for ElizabethSims.com.
---
Book Group Dessert Suggestion
From The Extra: Peanut Butter Cookies served at the ABC Mission.
Amaryllis B. Cubitt's Peanut Butter Cookie Recipe
---
A Note to Book Groups
IN PERSON
Elizabeth loves meeting with book groups. If your group would like to have her for a visit, let her know. She now lives in Florida and sometimes travels across the country, so who knows, maybe she could coordinate a visit to your group with other travel. (She does not charge for meeting with groups reading her fiction.)

BY PHONE
Elizabeth has "attended" book groups by speaker phone. If you'd like to arrange a phone call or Skype for your group just get in touch.



Email Elizabeth: esims@elizabethsims.com


BOOK GROUP GUIDES:
The Rita Farmer Mysteries
The Lillian Byrd Crime Series
Read on!
Printable Page