<!div class=WordSection1>
Speaking and Workshops
Elizabeth is an entertaining and informative speaker, presenter, panelist, and workshop leader. She's appeared at countless bookstores, as well as conferences, events and schools, including: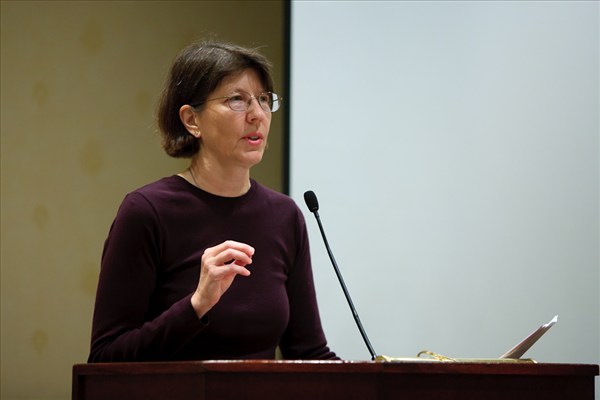 Writer's Digest East (New York)
Writer's Digest West (Los Angeles)
Bouchercon
Bentley University (Boston)
Ringling College of Art and Design (Sarasota)
Left Coast Crime
Lambda Literary Emerging Voices
Golden Crown Literary Society
Alaska Writers Guild
Florida Writers Association
Florida Heritage Book Festival
Write on the Sound (Seattle)
June Mazer Archives (Los Angeles)
Simpson College (Iowa)
LGBTQ Resource Center Gulfport Library (Florida)
See the end of this page for some actual audience feedback.
Some of the presentations / workshops Elizabeth can give to groups:
Fearless Writing

How to Write Dynamite Mysteries and Thrillers that SELL

How to Write Dialogue Like a Pro

Rough it Up: For a Better First Draft, Get Messy

Down and Dirty Research Tools and Techniques for Authors

Quit Your Day Job: Seriously!
She can also create material to fit your needs.

Elizabeth loves to talk with literature students, and is a lively reader of her material. Her wide experience in writing and publishing makes her a knowledgeable speaker with valuable insights.

Are you scheduling a women's literature / feminist / GLBTQ lecture series? Elizabeth will entertain and inspire.

<!/div>
Elizabeth Live
VIDEO: Elizabeth Introduces You've Got a Book in You
Florida Book AwardsThursday, April 12
Elizabeth Sims will be among the winning authors from across the state honored at the Abitz Family Dinner, the annual awards banquet at Mission San Luis in Tallahassee. The public is invited to attend. Please contact Jenni McKnight at floridabookawards.lib.fsu.edu or (850) 644-6323.
Florida State University News
Saturday, April 14, 2018
Elizabeth will appear on a panel of Florida Book Award winners at the
Word of South Festival of Literature and Music
in Tallahassee. For more information:
www.wordofsouthfestival.com
Saturday, May 19, 2018
Elizabeth will speak at the meeting and luncheon of the
Mystery Writers of America – Florida chapter
in Boca Raton. Her topic will be "Perils and Payoffs: The Risky Business of Researching for Fiction," and will include insider info and fast hacks to get whatever info you need, whenever you need it. Non-MWA members are welcome; see web site for details:
mwaflorida.org
Saturday Nov. 3 and Sunday Nov. 4, 2018
Elizabeth will spend the weekend in California with the
Palm Springs Writers Guild
. She'll speak about doing research for fiction, and will teach a workshop on short story writing.
Check
http://palmspringswritersguild.org/
for details as they're available.