Scroll down for pictures from previous events. Or click here for pictures from all events.
Yes, you can let Elizabeth know you'd like her to come to your area. Email her at esims@elizabethsims.com.
The Extra Tour Continued in Michigan and Washington
Friday, November 6, 2009 1:20pm PST
RADIO BROADCAST:
Elizabeth was interviewed on Karen Hanon's talk show, "Art Beat" on station KONP at 1450 AM, 102.01 FM or on the web.

Friday, October 30, 2009 7:00pm
Port Book and News (360) 452-6367
presents Elizabeth Sims as she dishes on books, Hollywood, and tough neighborhoods--and signs The Extra
at the Port Angeles Library.
Free Admission
the Carver Room
Port Angeles Public Library
2210 South Peabody St.
Port Angeles, Washington 98362

Sunday, October 25, 2009 1:00pm
Elizabeth Sims: "Reading and Writing Mysteries: Discussion, Gossip, and Expert Advice."
And, she'll sign The Extra
Borders Book Shop
31150 Southfield Rd.
Beverly Hills, Michigan 48025
(248) 644-1515

Friday, October 23, 2009 2:00pm
Elizabeth spoke to Shelley Garland's 6th grade literature class. She answered students' questions about being an author.
Brownell Middle School
Grosse Pointe Farms, Michigan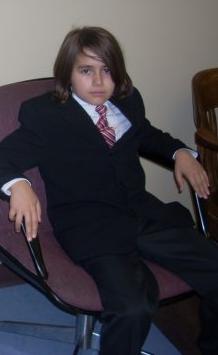 Student, Gabriel Martinez, invited Elizabeth to speak to the class.
Thursday, October 22, 2009
Aunt Agatha's presents Elizabeth Sims "Reading and Writing Mysteries: Discussion, Gossip, and Expert Advice."
All Welcome:
5:30pm Dinner at Seva Restaurant
314 E. Liberty
Ann Arbor, Michigan 48104
(734) 662-1111
At dinner Elizabeth will also sign and discuss The Extra.
This event continues at the store at
7:00pm Aunt Agatha's
213 South Fourth Avenue
Ann Arbor, Michigan 48104
(734) 769-1114

Click to read AA Journal piece about this event.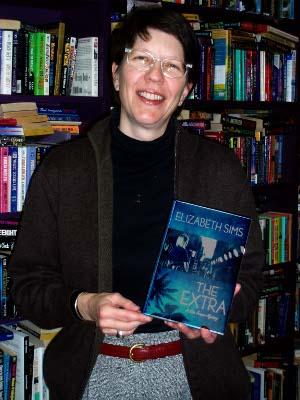 Elizabeth speaking at Aunt Agatha's in Ann Arbor
---
West Coast Tour for The Extra
Saturday, August 22, 2009 7:00pm
Alaska Writers Guild Panel
Elizabeth will be part of a very special panel of authors, agents and book-marketing experts who will discuss writing techniques, publishing options, and marketing plans. 7-9 PM.
Elizabeth's books will be available for purchase and she'll sign.
Seating will be limited.
Call or e-mail to reserve your seats 279-7323 or crm2784@bn.com
Barnes & Noble
200 East Northern Lights Blvd.
Anchorage, Alaska 99503
907-279-7323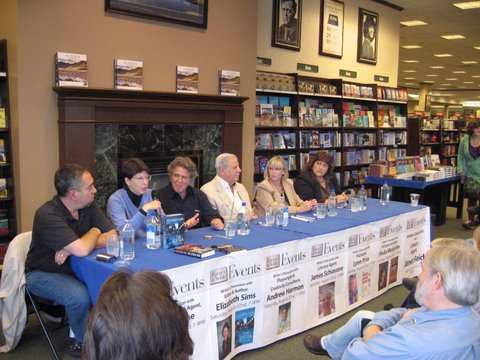 Elizabeth takes a turn with the mike during the Alaska Writers Guild Panel.
Saturday and Sunday, August 22 and 23, 2009
Elizabeth will present at the Alaska Writers Guild Annual Writer's Conference Details may be found here:
Alaska Writers Guild
Anchorage, Alaska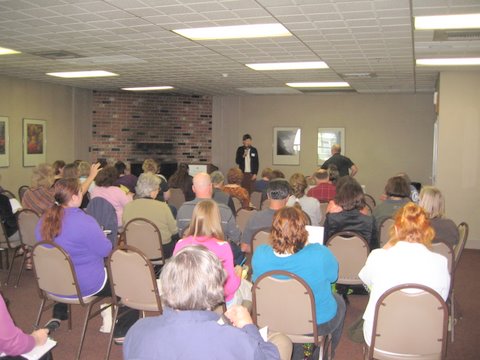 Elizabeth takes questions in her workshop session.
Thursday, Aug. 6, 2009 7:00pm
Meet Elizabeth as she talks about the challenges and rewards of writing a novel set in the mean streets of Los Angeles: The Extra.
Third Place Books
17171 Bothell Way NE
Lake Forest Park, Washington 98155
(206) 366-3333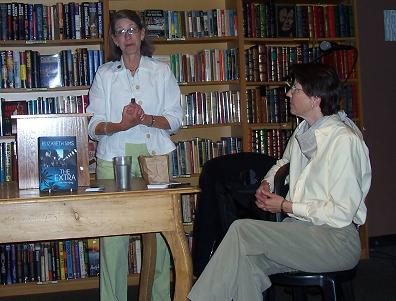 Cheryl McKeon introduces Elizabeth before her talk at Third Place Books.
Thursday, Aug. 6, 2009 12:00 noon
Elizabeth signs The Extra and chats with mystery fans.
Seattle Mystery Bookshop
17 Cherry Street in Pioneer Square
Seattle, Washington 98104
(206) 587-5737

THE EXTRA and me. (Seattle Mystery Bookshop blog)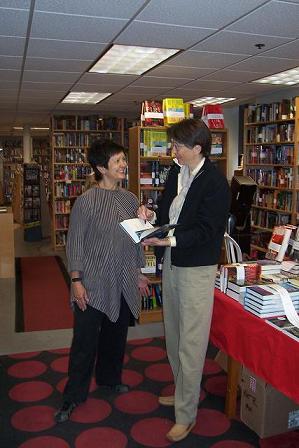 Elizabeth signs THE EXTRA for Adele Avant at Seattle Mystery Bookshop.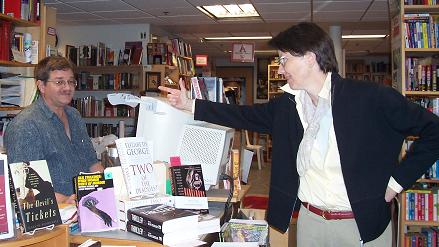 Elizabeth lets J.B. have it at Seattle Mystery Bookshop.

Tuesday, July 28, 2009 5:00 to 6:00pm
Elizabeth will dish on writing, publishing, and discuss her struggle to bring authenticity to The Extra.
Murder by the Book
3210 SE Hawthorne Blvd.
Portland, Oregon 97214
(503) 232-9995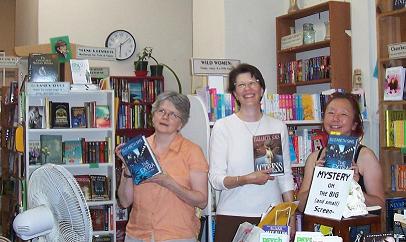 During the record heat wave in Portland, the air conditioner gave up at Murder by the Book. 100 plus degrees didn't stop Elizabeth Sims from discussing THE EXTRA with fans (human and mechanical).

Sunday, July 26, 2009 2:00pm
The always-entertaining Elizabeth will sign and discuss The Extra.
M Is for Mystery
86 E. Third Ave
San Mateo, California 94411
(650) 401-8077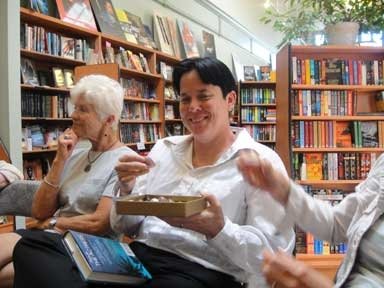 Elizabeth ALWAYS brings chocloate. It gets passed to Jennifer Hamblen at M Is for Mystery.

Wednesday, July 22, 2009 7:00pm
Join for 'Reading and Writing Mysteries: Discussion, Gossip and Expert Advice'
Elizabeth will also discuss and autograph The Extra
Borders Books and Music
900 State St.
Santa Barbara, California 93101
On the northeast corner of State Street and Canon Perdido.
(805) 899-3668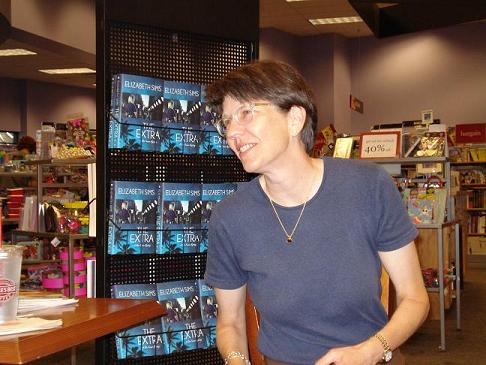 Elizabeth entertains the audience at Borders Santa Barbara.

Saturday, July 18, 2009 2:00pm
Elizabeth joins mystery authors Dorothy Howell (Purses and Poison) and R.T. Jordan (A Talent for Murder) to discuss fashion and Hollywood and... murder!
Mysterious Galaxy
7051 Claremont Mesa Blvd. #302
San Diego, California 92111
(858) 268-4747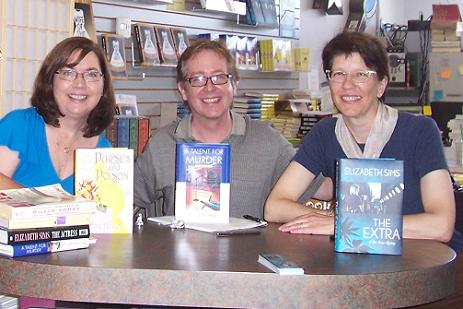 Dorothy Howell (author), Richard Jordan (author), and Elizabeth Sims at Mysterious Galaxy.

Friday, July 17, 2009 1:00pm
A great opportunity to get a first edition of The Extra and hear the author discuss writing, reading, and the tribulations of movie extras and druglords.
Mysteries to Die For
2940 Thousand Oaks Boulevard
Thousand Oaks, California 91362
(805) 374-0084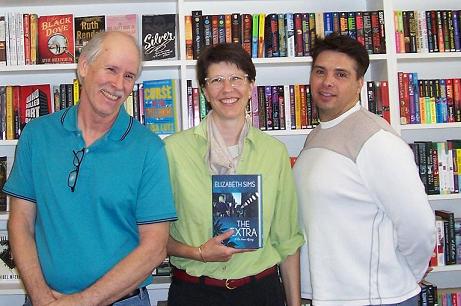 Alan Chisholm (owner), Elizabeth and Mario Diaz (owner) at Mysteries to Die For.

Earlier in 2009
Wednesday, June 10, 2009 8:00am
Elizabeth was invited by teacher, Deb Hibbard, to speak to the 7th and 10th grade writers at Crescent School
She told them about life as an author, the publishing business, writing drafts and editing.
Joyce, Washington 98363


Saturday, February 21, 2009 10:00am to 2:30pm
Elizabeth presents "Pour it Out: Stop Panicking and Start Writing" a writing workshop sponsored by A Book For All Seasons.
Pricing: The workshop with lunch, including a copy of The Actress $25.00. Click here to find out more and sign up now!
703 Highway 2
Leavenworth, Washington 98826
(509) 548-1451

Wednesday, February 4, 2009 6:30pm
Elizabeth facilitates a discussion of The Namesake by Jhumpa Lahiri at the Renaissance Reads book group.
Renaissance Cafe
401 Front Street
Port Angeles, WA 98362
(360) 565-1199

Saturday, January 31, 2009 1:30-3:30pm
Elizabeth signs and discusses The Actress
Page Turners Bookshop
901 S. C Street
Port Angeles, WA 98362
(360) 417-5055

---
Click here for pictures from all events.
Missed an event? Want a signed copy? Check the more page under signed copies.
Yes, you can let Elizabeth know you'd like her to come to your area. Email her at esims@elizabethsims.com.