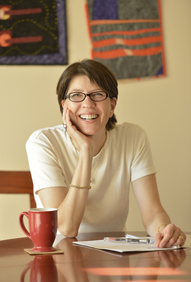 Photo by Tom Bender
Elizabeth Sims is a bestselling author and writing authority. Booklist calls her fiction "crime fiction as smart as it is compelling," and Crimespree magazine praises her "strong voice and wonderful characters."

She's the author of seven popular novels in two series. The Rita Farmer Mysteries include The Actress (#1), The Extra (#2), and On Location (#3). And, yes, Elizabeth has plans for the fourth in the series, Best Boy.

Elizabeth is also the author of four novels forming the Lillian Byrd Crime series: Holy Hell (#1), the Lambda Award-winning Damn Straight (#2), Lucky Stiff (#3) and Easy Street (#4). Just Out magazine calls Lillian "By far the best detective in the bunch." She's working on number five in that series; the working title is Left Field.

Are you a writer too—or would you like to be one? If so, you might find inspiration in Elizabeth's most recent book, You've Got a Book in You: A Stress-Free Guide to Writing the Book of Your Dreams, published by Writer's Digest Books.

A Contributing Editor at Writer's Digest magazine, Elizabeth's craft-of-writing advice has appeared in those pages since 2006, and she's a sought-after speaker at conferences and writing workshops around the U.S. She loves to help fledgling authors find their wings!

Elizabeth earned degrees in English from Michigan State University and Wayne State University, where she won the Tompkins Award for graduate fiction. She has worked as a reporter, editor, photographer, technical writer, bookseller, street busker, ranch hand, corporate executive, and symphonic percussionist. Elizabeth belongs to several literary societies as well as American Mensa.
Contact Elizabeth

Elizabeth is available as a speaker and to conduct writing workshops.
Email her to discuss your needs.