<!A HREF=/images/extra.jpg>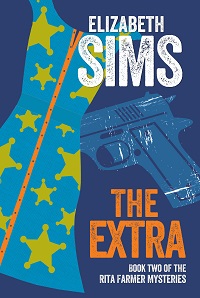 <!/A>
chapter 1
by Elizabeth Sims
©Elizabeth Sims 2009
The picket line surged again, and the police, already nervous, got panicky. I know my heart was pounding. Those of us not in riot gear stayed at the edges and tried to contain the crowd. It was near noon and very hot. A protester, a rangy young woman with flower-child green eyes, stepped up to my face, shook her fist, and sneered, "How do you sleep at night?"
As if I personally had taken a blowtorch to the earth to make it hotter. As if I personally had chained a Malaysian ten-year-old to a machine that dangerously stamped out American waffle irons.
All up and down the picket line the protesters were doing their mightiest to provoke the cops, yelling, swearing—everything short of actually striking us. I felt especially uneasy wearing an ordinary uniform, no helmet, no riot shield.
Someone behind the line threw a bottle. I watched it arc through the air, safely over the heads of the front-line protesters, and explode in shards against a riot shield. My goodness, that could have been recycled.
And on that signal, the protesters' fury amped into the red zone and they rushed us, blindly flailing their signs. Following orders, I stood my ground, narrowly missing getting brained by another bottle.
I heard the phot! phot! of teargas canisters being fired, and more screaming. A plume of poupon-yellow smoke began to drift my way.
"Cut! Cut, goddamn it!"
The director flung his cap to the ground and almost hurled his bullhorn too. He leaned riskily over the scaffold platform and bellowed, "I didn't want the teargas yet! The riot squad's supposed to move in as soon as the bottle breaks! Didn't you hear me? Where's Stuart? And then the teargas after they pull back! You people look like a buncha drunken sheep down there! Where's Stuart?"
His orange cap, embroidered with what looked like a stylized Tweety Bird, lay crown up on the oozy asphalt. We were here on a little stub of Eighth Street near the Los Angeles River, not that the river had any cooling effect, running only a few inches deep. The director continued to holler. "And they've got to get in front of the non-riot police! Right away, as soon as that bottle—which by the way, good throw, see if you can do that again—breaks, because"—
A squeal of feedback cut him off as the first assistant climbed up the scaffolding with his bullhorn on. I heard him say calmly to his boss, "Look, we need to rethink this." Then he announced, "Let's break for lunch, the caterers are ready. Everybody back on set in 40 minutes."
I walked past the scaffold and the orange cap with the yellow bird, the logo for the movie we were all making: The Canary Syndrome, yet another conspiracy-theory film about who's to blame for the fact that we're all going to hell, and not soon enough. A lackey snatched up the cap and scampered up the scaffolding. Everyone was wearing the same cap, all the crew, that is.
Something clammy and protoplasmic nudged the back of my bare elbow. I turned to find a German Shepherd the size of a minivan looking up (barely) at me. Panting cordially, he nudged me again with his nose. My friend Sylvan, in police costume as I was, held his leash.
"Hey, Rita," said Sylvan.
"Hey. Where were you guys? I didn't see you."
"We were about to attack the flank, over there. If he's going to get his money's worth out of us, he needs to shoot some stuff of the dogs taking people down well before the teargas, so the teargas will make sense."
"Man, you're sweating like a Coke bottle."
He laughed. Thick-shouldered and at least six-two, he said cheerfully, "It's the dog days." Perspiration poured from Sylvan's heavy brown face and darkened his uniform this August day. He was an animal wrangler who usually worked off-camera with the actors and critters, but sometimes he got roles handling dogs himself if he fit the scene. Big Black Fucker was the politically incorrect yet crystal-clear casting designation his agent used.
"Thanks again," I told him, "for helping me get this gig."
"Least I can do. You've helped me out plenty. Glad that rumor wasn't true about you being through with acting."
"Well, I am. Basically."
He looked at me.
"I am," I insisted. "I'm just doing little jobs here and there to help me get through law school."
He smiled. "Once an actress, always an actress."
I shrugged that off. "Are you doing just dogs on this one?" He handled rodents too.
"Just dogs, yeah. But me and a hundred mice start shooting tomorrow on a made-for-TV on Louis Pasteur."
"Oh?"
"Yeah, I read that he actually used dogs for his testing, but the producers think mice will be cuter."
"Yeah, imagine the spin-off possibilities."
He laughed.
"Wanna do lunch?" I asked.
"Nah, I've got to water and feed this guy and the other burly boys. Come on, King."
The Canary Syndrome was supposed to be a labor of love for everybody involved (French for low budget), but at least the extras, which I was one of, got scale, almost $200 a day.
And as in all good low-budgets, they were making the few do for the many: there were only about forty protesters and fifteen cops, including Sylvan and the other two dog-handling officers. The cameraman had snaked through the scene with his hand-held, guided by the belt by his assistant so it looked chaotic and tight-packed. The director shouted from above, one eye on the remote monitor that showed what the camera was seeing.
When Sylvan had phoned to give me a heads-up about the extras call, I thought I'd have a better chance if I dressed as a protester, given that I'm blond, fairly small, and, well—that clatter you're hearing is my false modesty falling to the ground—pretty. I thought I'd make an unconvincing cop, so I put on an angry-looking outfit of tight torn jeans and a hot pink top. But first thing I knew I was hired as Police Sergeant I / Non-armored, I guess in the name of diversity.
When I touched that police uniform, a special feeling came over me. A sense of potency filled my body, inch by inch, as I pulled up the pants and fastened them. They felt bulletproof. "Wool?" I asked the mohawked dresser in surprise. "Yeah," she said, "it's a great fabric, wool gabardine. The LAPD's used it forever, that's why they look so good. The shirts are tropical weight. Here."
I drew on the short-sleeved shirt, with its badge and insignia, and it felt great. I put on the black socks and duty shoes, buckled the leather gunbelt around my waist with the dresser's help, put on the hat, and looked in the mirror. There behind all that officialdom was little old Rita Farmer. But my expression was clear and authoritative, and I looked powerful and proud.
I slipped my own small wallet into my back pocket, not quite trusting the security of the wardrobe room, a messy space rented in the very building providing the façade for the shoot.
The belt was so heavy, what with all the stuff on it—handcuff case and so on—that I thought the gun was in the holster already. But no, I had to see the prop guy for my fake gun, which looked and felt totally real. It must have weighed two or three pounds.
"Are you left-handed?"
"No, right."
He made me take off my belt, and he found a right-handed holster to replace the left-handed one that had been on it.
"It doesn't make any difference, you know," I said. "I'm not even going to draw it, much less"—
"It does matter," he said. "You'll look maybe two percent more natural, having the gun on your handed side. It'll feel different to you."
"Yeah?"
"And from my perspective all those two percents add up." He adjusted my cap with a quick tap, and I was done.
Man, did I feel good. I tried to imagine what I'd do if I were a real cop in some tough situation. Probably crap my pants.
Our tidbit of Eighth Street wasn't far from Skid Row and downtown. A shipping office that had escaped blight was dressed as the headquarters of some evil multinational company, and this was the location of our protest scene.
The food on a movie set is usually quite luxe, but they'd cut even that corner. The one measly lunch wagon was overwhelmed by the crowd, so the caterers resorted to throwing wrapped sandwiches and baggies of vegetable sticks to the throng, refugee-style.
I caught a sandwich, grabbed a Diet Pepsi from an ice bin, and sat down on a curb. The sandwich looked OK—ham and avocado ciabatta type thing—but as my mouth approached for bite one, a bug appeared between ham and bread. Hiya, bug. I watched its head emerge, feelers waving in the sunshine. It wriggled all the way out and began crawling along the ridgeline of a ham slice. I tried to convince myself it wasn't a cockroach, merely some clean-living lettuce-dweller, because I was very hungry. But no, it was a roach, it was a roach—that disgusting oily brown carapace. It took me a second to process this, upon which I recoiled like a Winchester, the sandwich flying from my hand. "Oh, God!"
I almost dry-heaved, but got a grip and forced myself to pick up the sandwich. The roach fell to the ground and zipped to a wad of gum for cover.
I'm not really afraid of bugs in general, although spiders aren't my favorite. The best thing about my married years was that my husband, although an abusive drunk, would kill the spiders. Being divorced, upon finding a spider in the apartment I either had to slaughter it or adopt it as a pet. I've heard tell of people who scoop them up and take them outdoors, but that is so not me. When I had to, I'd kill them with one of my slippers, using my Gramma Gladys's spider-killing chant: "Oh, little spider, got no mama, got no papa, wanna see God?" Smack! The key is not to hesitate. Do not hesitate.
I would have stomped on the roach for vengeance since they're not yet an endangered species, but it was gone. I threw the sandwich into a trash barrel and trotted down the street to find something decent to eat. As soon as I got away from the cables and lights and gawkers, the mean streets pressed in. Bleak, broken, depressing. The very air vibrated with low serotonin. I saw ugly hostile tagging all over the place, as if even the skilled graf artists had moved on to Pasadena. The buildings were mostly run-down commercial. Practically everything that had started out good was now wrecked, including many individuals. It's always unsettling to see people in their thirties with missing teeth. I jogged and jogged, finally turning north on Mateo, at least a through street. Where the hell was a market, a party store, a goddamn vending machine? I cruised past steel gate after brick façade after dirty plywood, my heart lifting for one second at a gas station that turned out to serve ONLY petroleum products, a garbage-strewn parking lot. A drop of perspiration rolled down the side of my face and evaporated in the dry street heat.
It was nice to be putting so much mileage between me and the roach-wich, but the farther I went, the more anxious I got, what with having to be back for the next take. The blocks flew by and my sense of futility increased in direct proportion to my hunger.
Maybe I should give up, I thought, but then my inner voice demanded, Are you a quitter, then?
No, I answered. No quitter am I.
I trotted on.
Ah! An old enameled Orange Crush sign was almost covered over by a poster for some new brand of malt liquor, and the sign up top said GROCERIA.
The Mexican shop was dim, the windows plastered over with day-glo signs, PINTO 79C, CORONA 3.99 and so on. But the proprietor smiled and his fruit glowed in heaps like treasure. My mouth watered, cautiously. A girl of about eleven stood gazing from the shop's doorway into the white glare of the street. She wore a turquoise cotton dress with yellow rick-rack around the hem. Her face was dreamy.
A sign pointed to ready-made sandwiches in the cold case, but not wanting to tempt fate, I returned to the fruit and chose a nectarine and a banana, first examining them with careful paranoia for bugs. I saw a package of peanuts and picked up that too.
I got out my wallet to pay, but the storekeeper pushed the food to me saying, "No, no, you take. You take it, OK?"
"What?"
Suddenly the young girl cried out at something in the street. She grabbed my arm, pulled me to the door, yammering and pointing in Spanish.
On the opposite sidewalk a young black kid was trying to shield himself from blows coming from a couple of thugs, one fat-assed, the other lean, their faces shrouded deep under sweatshirt hoods. The fat-ass swung a length of 2x4 like an axe, overhand, pounding the kid's shoulders and then, as the kid curled himself into a ball on the sidewalk, his back and legs.
You see this kind of thing all the time in movies and TV, the violent clichés we all have a beer by, go to bed by, entertain our children by. Just a few minutes ago I watched the picketers slamming their breakaway polyethylene signs on the cops' helmets, and the cops unleash their spongy fake batons on their opponents. Everybody acted extremely fierce, with lots of grunting and wincing.
But this—this. The purposeful silence of the attackers. The sound of the blows in the suddenly-quiet street, the sound so small compared to the amplified thwack! of movie blows, but so much more chilling, so much less tolerable: bone and muscle yielding to kiln-dried lumber. My spine contracted upon hearing each sick thud.
The other attacker was attempting to stomp the kid's head. Someone's son. A brown suitcase lay on its side next to him.
I had a mental flash of my own son. His trusting little face—had I packed his favorite dinosaur, the orange one, in his daybag this morning?
My blood pressure spiked and I found myself on the bright sidewalk. Found myself is exact: My legs took me there without any command from my brain. I heard more sickening blows and then the kid's muffled pleas. The first attacker lifted the piece of timber again.
"Stop it!" I barked.
The pair looked over at me. I rushed into the street, dodged sideways for a car, and by the time I reached the curb, the attackers had dropped the 2x4 and taken off, fast. They separated, one darting down an alley, the other continuing up the street, then disappearing around a building.
The boy rolled over on the sidewalk and sat up, blood pulsing from beneath a flap of his scalp. He looked to be fifteen or sixteen years old. He struggled to get up. I said, "Wait, don't, you're hurt." Blood coursed down the side of his face, slick and so red in the L.A. sunshine. The smog, after a breezy weekend, was low today.
He kept trying to stand. "Leave me alone," he mumbled. He wore green camo pants and a white t-shirt, the shirt soaking up the blood like snow. Each of his breaths was torn with pain, but he spoke again. "They'll be back."
I looked around for help. A few passersby had stopped to stare; others hurried by.
The bleeding boy struggled, again, to stand. His eyes were confused. "Stay down!" I yelled in my mom voice. His skin was as smooth as boot leather and dark brown, his hair short-cropped.
"Hey, leave him alone!" a stranger shouted.
"Racist!" called another.
"What?" I said.
"No, she no touch him," contradicted someone else.
I comprehended none of this.
Automatically, I reached for my cell phone, always clipped to my waist, and found the prop gun in my hand instead. Surprised, I stared at it, its lethal-looking barrel leveled at the hearts of the bystanders.
The small crowd screamed and scattered.
The boy cowered on the sidewalk. "Don't shoot, please don't shoot," his voice a terrified rasp.
As I stood in that street holding the gun, everything became clear at once. In the heat of the moment I had forgotten I was dressed as a police sergeant. The storekeeper had tried to give this new cop free food, the little girl saw violence and drew the cop to it, this inner-city black teen surely would fear a cop—blond and pixie-faced though she might be—the crowd saw a black kid bleeding and a white cop standing over him yelling. Yes, everything came clear. Perception is reality, just like they say in acting school.
Where the hell's my cell phone? Oh yes, in my little changing basket, back in wardrobe.
The boy moaned. I knelt to him. "You'll be OK, honey. Please," I shouted, "someone call 911!"
But the street was empty now. Did the people here know what was about to happen?
"Hey, grocer!" I hollered.
The boy lurched from my arms and scrambled to his feet.
A dilapidated car pulled up to the curb.
Crak! I saw a flash inside. Photography? Paintball?, I stupidly wondered. Crak! and again crak-crak! , the sounds quick and flat in the silent street.
My young friend collapsed. The car sped away.
I felt something hot on my upper arm and flinched away from it but it stayed with me and I saw torn skin and blood starting down from my LAPD uniform shirt.
I knelt again to the boy. His eyelids fluttered. Blood seeped from a new wound in his side and poured, more ominously, from another in his neck. He tried to speak.
I pressed my hands firmly over the bullet hole in his neck. "Help!" I shrieked.
Softly, the boy said, "I'm gonna die."
"No, honey, you are not gonna die. You hang on, you hear me?"
"Officer." He looked up at me, struggling to say something.
I bent my ear to his lips.
"Tell my grandmother I'm sorry."
His eyes closed.
..
Read on!
FIRST CHAPTERS AND EXCERPTS:
The Rita Farmer Mysteries
The Lillian Byrd Crime Series