!META http-equiv="X-UA-Compatible" content="IE=8" /><!/META>
http://www.elizabethsims.com/reviewsDS.php
reviews
<!HR>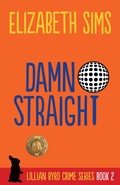 Damn Straight
Lillian Byrd Crime Series #2 by Elizabeth Sims
Kirkus Reviews New York, NY
"...Much charm and deprecating humor."
Booklist review by Whitney Scott
"...Your evening read will keep you up 'til dawn."
Library Journal
"...Appealing characters, and a rabbit mascot."
The Lesbian Review Audiobook Review
"Dina Pearlman did a good job of bringing the story to life. Her narration suits the characters and feeling of the novel."
reviewingtheevidence.com review by Denise Pickles
"Believable characters... Todd is delightful... a lot of excitement." <!A class="onpaper" HREF=http://www.prairieflame.biz/december2003edition.htm target=_new Prairie Flame December 2003 /a>
AfterEllen.com review by Sarah Warn
"Exceptionally well-written."
Just Out Portland, OR
"...By far the best detective of the bunch."
Virginia Gayzette
"...A nice way to visit the Dinah Shore without the trip."
Woman's Monthly (WOMO) Washington DC review by Andrea L.T. Peterson<! on page 14>
"An all-round enjoyable read."
Create & Play Olympia, WA review by Emily Decker Lardner
"Lillian is a detective worth following."
GIRLFRIENDS review by Saira Qureshi
"For those with a golf background, Sims does an excellent job of exhibiting her knowledge of the sport. Those less experienced will still be able to follow along."
Lambda Book Report review "Sleuthing at the Dinah Shore" by Lynne Maxwell
"Whatever you do, mystery readers, do not bypass this compelling new series... When you read Damn Straight, I guarantee you'll seek out Holy Hell. I did."
Diva
"So far, so engaging..."
Stonewall News Northwest
"Once again, author Elizabeth Sims comes up with a nail-biting chiller of trophy caliber."
Books To Watch Out For - The Crime Scene by Nan Cinnater
"On the lighter side..."
RainbowNetwork.com review by Charlotte Cooper
"Really well written and completely lacking in the pompousness that often plagues the genre."
REVIEWS:
nonfiction
The Rita Farmer Mysteries
The Lillian Byrd Crime Series