!META http-equiv="X-UA-Compatible" content="IE=8" /><!/META>

<!STYLE> <!put back for printing P { page-break-after: always }> <!/STYLE> <!div id="container">

<!HR>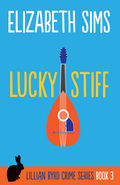 Lucky Stiff
Lillian Byrd Crime Series #3 by Elizabeth Sims
Kirkus Reviews New York, NY
"...Colorful episodes involving trailer parks and luxury cars..."
Library Journal review by Rex E. Klett
"A nifty little puzzle solved by a most intriguing female detective."
HAVEBOOKSWILLREVIEW review by Wayne
"Very well-written, interesting on several levels."
Vancouver Public Library Vancouver, BC, Canada
"This is a nerve-tingling thriller, rich with characterization and humour..."
Woman's Monthly (WOMO) Washington DC review by Andrea L.T. Peterson<! on page 22>
"In short, this is a good one!"
Liberty Press review by Sheryl Lesage
"Characters are biting and smart-assed and funny the way I like them."
Lavender Minnesota's GLBT Magazine
"A solid and eerie read."
OUT in AMERICA review by Pam Harrison
"Sims knows how to write a solid crime story with all the thrills."
RainbowNetwork.com review by Charlotte Cooper
"Far and away above the competition."
FAMILY & friends review by Patricia Pair
"...Top-notch."
Prairie Flame<!/A> review in Pages from the Rainbow
"Involving story, astute character development, and above all, an appealing heroine."
Books to Watch Out for - The Crime Scene by Nan Cinnater
"Believable, smart novel!"
REVIEWS:
nonfiction
The Rita Farmer Mysteries
The Lillian Byrd Crime Series

Printable Page <!script language="JavaScript" type="text/javascript" src = 'http://ajax.googleapis.com/ajax/libs/jquery/1.4.4/jquery.min.js'><!/script>