!META http-equiv="X-UA-Compatible" content="IE=8" /><!/META>

<!STYLE> <!put back for printing P { page-break-after: always }> <!/STYLE> <!div id="container">

<!HR>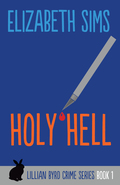 Holy Hell
Lillian Byrd Crime Series #1 by Elizabeth Sims
<!LI style="background: url(/dateimg.php?m=Jun&d=18&y=2002) 0 0 no-repeat; padding-bottom: 20px; padding-left: 60px;"> <!A class="onpaper" HREF=http://home.iprimus.com.au/laurapalmer/gaydetectivefiction.htm TARGET=_new Logged Off review by Geoff Parkes "quality commentary on contemporary social situations.">
Midwest Book Review review by Lori L. Lake
"A rollicking good mystery!"
Outcome Buffalo Buffalo, NY review by Kate Brown
"The author has delivered a smorgasbord--humor, sex, gore, and a dyke I enjoyed meeting."
Woman's Monthly (WOMO) Washington DC review by Andrea L.T. Peterson
"Byrd is a very likable amateur sleuth and Sims is a really entertaining storyteller."
BookDyke! review by Nicole Blizzard
Holy Hell is the debut of a new wisecracking new sleuth by the name of Lillian Byrd, and after reading it, I am certainly looking forward to watching the evolution of this character in future books by author Elizabeth Sims."
Just Out Portland, OR review by Page Jordan
"Sims' suspenseful plot moves fast and is full of surprising turns and quirky, engaging characters."
The Liberty Press review by Sheryl LeSage
"I flat out loved this book..."
Sacred Ground: News and Reviews... review by Joy Parks
"Holy Hell by Elizabeth Sims offers readers a rare combination of a good mystery plot with solid writing, whole characters and dialogue that doesnít sound like itís been wrenched out of a bad made-for-TV-movie. Thereís a wonderful irreverence to Sims' Lillian Byrd and a bizarre realism to the individuals she encounters."
RainbowNetwork.com review by Charlotte Cooper
"A real page-turner."
Community News Salem, OR review by Marcy Coble
"...A good read for mystery fans."
Lesbian News Torrance, CA review by Teresa DeCrescenzo
"Yikes."
Gay & Lesbian Times San Diego, CA review by Richard Labonte
"Wit, energy, and irony!"
Virginia Gayzette review by Ravigo Zomana
"...It's actually not too bad a book."
REVIEWS:
nonfiction
The Rita Farmer Mysteries
The Lillian Byrd Crime Series

Printable Page <!script language="JavaScript" type="text/javascript" src = 'http://ajax.googleapis.com/ajax/libs/jquery/1.4.4/jquery.min.js'><!/script>