!META http-equiv="X-UA-Compatible" content="IE=8" /><!/META>

<!STYLE> <!put back for printing P { page-break-after: always }> <!/STYLE> <!div id="container">

<!HR>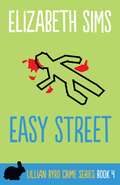 Easy Street
Lillian Byrd Crime Series #4 by Elizabeth Sims
LibraryJournal.com Web Exclusive Reviews
"...Quirky heroine, quaint plot."

Kirkus Reviews New York, NY
"...The results are violent (more casualties loom) and hilarious... Lillian is a true original."
KissedByVenus.ca review by Jarron Ennis
"It's refreshing that Sims doesn't find the need to complacently follow along with modern convention..."
Books to Watch Out for <!- The Lesbian Edition Volume 3 #1 >- The Crime Scene by Nan Cinnater
"Lillian is a funny and charming, albeit eccentric, narrator."
Prairie Flame<!/A> review in Pages from the Rainbow
"Another fine entry in a solid mystery series that is increasingly worth a visit."
reviewingtheevidence.com review by Sharon Wheeler
"Sims ... has created one of those heroines who you wouldn't like to be ... but you'd like as a friend."
<!A class="onpaper" HREF=http://www.marymartin.com.au/s.html target=_new>Mary Martin Bookshop<!/A> review by Denise Pickles
"Sims' writing deserves to burst from the confines of gay literature to be accepted by mainstream readers who might otherwise overlook the work of this excellent and entertaining author."
RainbowNetwork.com review by Charlotte Cooper
"I read Easy Street in one delicious gulp, itís a book that just begs you to keep turning the pages... Sims is also a master of the genre, she knows the conventions and plays with them smartly."
RainbowNetwork.com Books of the Year 2005 by Charlotte Cooper
"Top Tip: Look out for our review of Elizabeth Sims new novel Easy Street. She's back with her fourth Lillian Byrd mystery and itís easily her best yet! ..."
the L Life literature review by Lynne Jamneck
"...You'll be happy to know that Lillian has returned in all her dry, witty splendor to pull us all into yet another totally enjoyable and satisfying mystery."
Out Smart Magazine Houston, TX review by Angel Curtis
"Great characters, superb storytelling and an interesting mystery. This one is not to be missed."
REVIEWS:
nonfiction
The Rita Farmer Mysteries
The Lillian Byrd Crime Series

Printable Page <!script language="JavaScript" type="text/javascript" src = 'http://ajax.googleapis.com/ajax/libs/jquery/1.4.4/jquery.min.js'><!/script>