!META http-equiv="X-UA-Compatible" content="IE=8" /><!/META>
http://www.elizabethsims.com/reviewsOL.php
reviews
<!HR>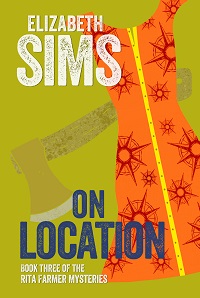 On Location
Rita Farmer Mystery #3 by Elizabeth Sims
Click here to read the complete reviews from
Booklist, Publishers Weekly, Kirkus and more.
Booklist review by Michele Leber
"Sims' plotting and dialogue are brisk and sharp, and the characters of Rita and George—both interestingly introspective—raise this well above the genre norm. Crime fiction as smart as it is compelling."
<!A class="onpaper" HREF=http://www.publishersweekly.com/article/CA6648924.html target=_new>Publishers Weekly<!/A>
"Sims orchestrates the action--and occasional comic relief--for maximum impact, with characters you hope will survive to enjoy another day."
Kirkus Reviews New York, NY
"Feisty Rita Farmer adds hatchet-brandishing to her repertoire."
...
"Like George, you just have to love Rita, who's a great mom, a devoted sister and a helluva actress, even if Spielberg hasn't cast her yet. Deftly plotted, often droll, but so rainy throughout that you might want to read it with a pair of dry socks by your side."
Seattle Times review by Melinda Bargreen
"Fast-paced, atmospheric mystery... Sims shines in her deft characterizations."
Mystery Scene review by Lynne F. Maxwell
"Realistic, significant relationships between characters...Rita's best role to date."
Richmond Times-Dispatch review by Jay Strafford
"... On Location is primarily a thriller — with a twist — combined with adventure. It confirms Sims' skill and demonstrates her versatility in heart-pounding, page-turning style."
Harriet Klausner (syndicated online)
"More a thriller than a mystery, the third Farmer tale (see The Actress and The Extra) is a fabulous novel as Rita's independent streak leads her and her two compatriots into trouble reminiscent of Dickey's Deliverance. On Location is a winner that does not need a Byrd to tell fans that this entry is terrific."
REVIEWS:

nonfiction

The Rita Farmer Mysteries

The Lillian Byrd Crime Series