!META http-equiv="X-UA-Compatible" content="IE=8" /><!/META>
http://www.elizabethsims.com/reviewsTA.php
reviews
<!HR>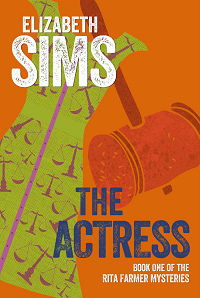 The Actress
Rita Farmer Mystery #1 by Elizabeth Sims
Kirkus Reviews New York, NY
"In her first departure from her Lillian Byrd series, Sims crafts a page-turner from stem to stern!"
Publishers Weekly
"Her wry commentary on life in Hollywood is dead-on."

Booklist review by Kristine Huntley
"Intricate and surprising, this is a gripping read and a promising start to a new mystery series."
What We're Reading Bloomingdale Public Library
"Witty and compelling, this is a complex mystery you'll love reading, and hate to see end. "
Aunt Agatha's review
"Vividness of the writing... compulsive read ... Rita's unforgettable character"
Mystery Books News review by Katherine Peterson
"A tightly plotted tale with multiple layers."<! NOTE: also www.mysteriousreviews.com/mystery-book-reviews/sims-actress.html>

<!A class="onpaper" HREF=http://www.mercurynews.com/books/ci_10679366 target=_new>The Mercury News<!/A> San Jose, CA review by Roberta Alexander
"Rita is a strong and believable voice, so it's easy to root for her to find her way through the harrowing thicket."<! search on Northwest Bookshelf if link is moved>
Seattle Post-Intelligencer <! also http://www.contracostatimes.com/entertainment/ci_10679366>
"The veteran mystery writer...kicks off a new series with a crackerjack tale."<! search on Northwest Bookshelf if link is moved>
The Seattle Times review by Melinda Bargreen
"Sims has a well-plotted and engaging winner here in what looks like the start of a new series. Let's hope so."
<!A class="onpaper" HREF=http://www.inrich.com/cva/ric/entertainment/books.apx.-content-articles-RTD-2008-06-29-0005.html target=_new>Richmond Times-Dispatch<!/A> review by Jay Strafford
"In real life, a Hollywood murder trial simultaneously fascinates and repels (think O.J. Simpson, Robert Blake and Phil Spector). But in fiction, you can forget the "repels." In Elizabeth Sims' The Actress the fascination will keep you up late."
<!A class="onpaper" HREF=http://www.iloveamysterynewsletter.com/I_LOVE_A_MYSTERY_2ND_WEBSITE/MANYA__NOGG.html#THE%20ACTRESS target=_new>I Love A Mystery<!/A> review by Manya Nogg
"At last, a fresh idea in mysteries."


BookLoons.com review by Tim Davis
"With a fond nod to Konstantin Stanislavsky - the legendary Russian actor, director, producer, and originator of the actor development process that came be known as Method Acting - The Actress is more than a top-notch mystery, it is also an intriguing character study in which personal emotions - either real or imagined - become the methodically constructed foundations for perceived - rather than authentic - behaviors and attitudes."
<!A class="onpaper" HREF=http://themysterygazette.blogspot.com/2008/04/actress-elizabeth-sims.html target=_new>Harriet Klausner review by Amazon top reviewer.<!/a>
"Exhilarating! Elizabeth Sims provides a fascinating tale." <!http://harrietklausner.wwwi.com/review/the_actress_sims>
Elizabeth's Mom
"It sure looks like a winner to me!"


REVIEWS:

nonfiction

The Rita Farmer Mysteries

The Lillian Byrd Crime Series