!META http-equiv="X-UA-Compatible" content="IE=8" /><!/META>
http://www.elizabethsims.com/reviewsTE.php
reviews
<!HR>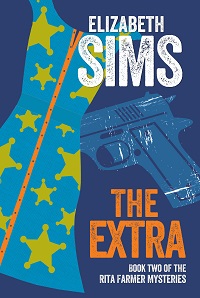 The Extra
Rita Farmer Mystery #3 by Elizabeth Sims
The Boston Globe review by Hallie Ephron
"Side characters straight from central casting... the two leads, Rita and George, are engaging and believable..." <!/UL> <!/TD> <!TR><!TD COLSPAN=2> <!UL style="list-style-type:none; margin:0; padding:0;">
<!A class="onpaper" HREF=http://www.publishersweekly.com/article/CA6648924.html target=_new>Publishers Weekly<!/A>
"Entertaining second Rita Farmer misadventure... the action builds to a satisfying conclusion... steamy L.A. setting... "
Booklist review by Michele Leber
"Brisk prose and facile storytelling... vivid portrayal of the seamy side of urban life, and engaging characters... "
Kirkus Reviews New York, NY
"Smelly disguises... fierce confrontations... and a lost beagle... "
examiner.com Miami Books Examiner by Rosa St.Claire
"... A perfect blend of mystery, comedy and romance."
The Gumshoe Review Ernest Lilley, Senior Editor
"Dames. Go Figure."
Lavender Magazine and Holiday Gift Guide 2009 Arts and Entertainment review by The Page Boy, E.B. Boatner
"...Ingredients for a Julia Child-like mystery bouillabaisse recipe for murder. It works."
Sullivan County Democrat and the Ellenville Shawangunk Journal of August 13 2009 - About Books column by Claire Ernsberger, Ph.D.
"Rita's occasional acting jobs are cleverly integrated. A good thriller, taut and tough."
RT Book Reviews - Romantic Times Magazine mystery, suspense, thriller review by Pat Cooper
"**** Compelling — Page-turner"
<! was for blog review LI style="background: url(/dateimg.php?m=Jun&d=12&y=2009) 0 0 no-repeat; padding-bottom: 20px; padding-left: 60px;"> Crimespree Magazine issue 31 review by Jon the Crime Spree Guy
"Written with a strong voice and wonderful characters The Extra as a book that goes down easy, like a perfect cup of coffee."
Richmond Times-Dispatch - Book Bag review by Jay Strafford
"Sims, whose The Actress won high acclaim, outdoes herself... an intelligent thriller... comes together seamlessly... sure to appeal to fans of complex plots and strong women."
The Mystery Gazette review by Harriet Klausner
"An entertaining investigative tale... The story line is fast-paced... Overall The Extra is an engaging thriller."
REVIEWS:

nonfiction

The Rita Farmer Mysteries

The Lillian Byrd Crime Series