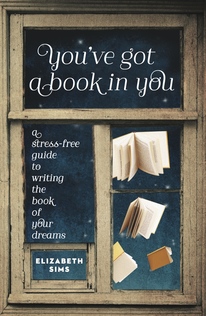 You've Got a Book in You
A Stress-Free Guide to Writing the Book of Your Dreams

by Elizabeth Sims
<!UL>
<!BR>Hallie Ephron, award-winning author of There Was an Old Woman
"If you're searching for the spark of inspiration to get started writing a book, and the nourishment to sustain you to THE END, Elizabeth Sims's You've Got a Book in You will show you how to find it in yourself."


<!BR>L. J. Sellers, author of the bestselling Jackson mysteries
"Even after writing a dozen novels, I found great little gems of advice. You won't find an easier-to-follow or more inspirational writing guide."


<!BR>Jamie Morris, Director, Voice Heart Vision
"By focusing the high beams of her intelligence (and humor!) on the twisty trail of book-writing, in You've Got a Book in You, Elizabeth Sims proves herself a true writer's friend. As she guides you from the creation of a "working title" through her (brilliant!) "Making-It-Better Process," this well-established pro plays her most impressive cards--stacking the deck in favor of YOU!"


<!BR>Ellen Hart, author of the Jane Lawless mystery series and five-time winner of the Lambda Literary Award
"As a teacher of creative writing for the last seventeen years, I've read many books on how to write. How to write a romance, a mystery, an action adventure story; how to develop plot, character, suspense, and so on. The approach Sims takes is always positive and well worth the price of admission. The aspiring writer is taken through a journey deep into the soul of the creative process. The author's passion for her subject is evident, and the many suggestions given for finding that passion in your own writing are richly intelligent and spot-on. This is a terrific book!"


<!BR>Julie Compton, author of Tell No Lies and Keep No Secrets
"Elizabeth Sims packs a twelve-week writing course into 280 pages. Inspirational and yet extremely hands-on, You've Got a Book In You will give newbies confidence to forge ahead and will remind veteran writers why they began writing in the first place--for the joy of it. I won't be surprised when the brilliant terms 'stormwriting' and 'heartbrain' become part of every writer's lexicon."


<!BR>Gesa Kirsch, Ph.D., Professor of English, Director of Valente Center for the Arts and Sciences, Bentley University
"The book is encouraging and inspiring, practical and witty. As a seasoned writer, I appreciate the reminders about the importance of putting yourself on a writing schedule. No more excuses. The many 'writing blasts' are very helpful and will get any writer out of the starting blocks. I especially enjoyed the section, 'Writing with the Masters.' What better way to get inspired, get a feel for different styles, and get jump-started on your writing? Excellent advice that I plan to incorporate in my future classes.
"I concur with Sims that 'writer's block' is greatly exaggerated. Is there any other profession that claims such a phenomenon? 'Excuse, me, but I have 'book-keeping block,' 'playing music block,' or 'painting block' today? I don't think so. Get yourself on a schedule, read some Sims, write with the masters, and you'll be on your way. You'll be glad you met this friend on your journey to becoming a successful writer."


<!BR>The Book Depository
"It doesn't have the arrogant undertone found in other writing books."


<!BR>Ella's Edge for the Insecure Writers Support Group
"This book frees your fear, gives you freedom to fly!"


<!BR>Mark L. Levine, author of Negotiating a Book Contract: A Guide for Authors, Agents and Lawyers
"If you think you have a book in you, you'll want to read this one by Elizabeth Sims!"


<!BR><! Sept. 18 2013>Emily Gordis, NaNoWriMo blog, A NaNoWriMo Book Review: 3 Great Inspiration Ideas from "Youíve Got a Book In You!"
"Elizabeth Simsí noveling handbook delivers on its promise of being stress-free. She emphasizes following your instincts and delivers a book that is in-depth, comprehensive and witty, but never complicated."<! 9/18/2013>


<!BR>Valerie Cooper, About.com Freelance Writing Guest Review
"This is not another dry formula book, but rather a fun, imaginative and intelligent adventure with a validating friend who advises you to believe in yourself, trust your gut, let your imagination soar, and--with persistence and patience--write a great book. You feel as if Sims is right there beside you, guiding you every step of the way."<! 11/1/2013 ?>


<!BR>Diane Prather, Craig Daily Press Craig Colorado
"I have a lot of how-to-write books on my bookshelf, but this is one of my favorites. Itís upbeat. Itís positive. Itís one that I will pick up often for inspiration. The book is terrific!"<! 4/8/2014 ?>


<!BR>Margaret Yang, Writing Slices: Reading the Books that Teach You to Write
"Wrapped so tightly with good solid advice that the whole book reads like a down-to-Earth best friend telling it like it is."<! 4/8/2014 ?>


<!BR>JeriAnn Geller, BookTrib: the lifestyle destination for booklovers
"Thank heavens for Elizabeth Sims. Sheíll help you find the right time and place to write, gather your creative tools and show you how itís done--page by page, step by step."<! 07/09/2014 4:30 pm>


<!BR>Caroline McCullagh, Mensa Bulletin January 2016
"Her ideas about stormwriting are worth the price of the book by themselves."
REVIEWS:

nonfiction

The Rita Farmer Mysteries

The Lillian Byrd Crime Series